DENVER, Colo. – (RealEstateRama) — Hanley Investment Group Real Estate Advisors, a nationally-recognized real estate brokerage and advisory firm specializing in retail property sales, announced today that the firm represented the buyer and seller in the sale of an 83,278-square-foot shopping center, shadow-anchored by a Walmart Neighborhood Market in the Denver metro area. The shopping center, Arvada West Town Center, is located on 14.65 acres at 14455-14715 West 64th Avenue in the city of Arvada, Colo. The sale price could not be disclosed.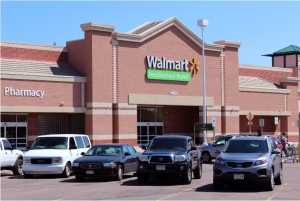 Hanley Investment Group Senior Vice President Kevin Fryman and President Edward Hanley represented the buyer, Starboard Realty Advisors, LLC of Irvine, Calif., and the seller, Arvada West 04 LLC, a Colorado limited liability company.
Walmart, the largest grocer in the United States, has operated at this location since 2012, driving daily traffic to the center. Approximately 62 percent of the tenants at Arvada West Town Center are national or regional tenants. Tenants include AutoZone, BBVA Compass Bank, Big O Tires, ConocoPhillips, Grease Monkey, Wendy's, Abo's Pizza, Emergency Care Arvada, Eye Level Learning Center, Fantastic Sams, Qdoba Mexican Grill, Rib City Grill, The Salvation Army, United Studios of Self Defense and Quiznos. Built in 2001-2004, the center was 89 percent occupied at the time of the sale.
Arvada West Town Center is located along West 64th Avenue, one of the main east/west thoroughfares connecting the affluent residential communities of Arvada to Downtown Denver, according to Hanley. The shopping center benefits from the signalized intersection with 37,000 cars per day and an average household income of $115,000 within a one-mile radius and a population in excess of 145,000 people within a five-mile radius.
"This type of retail asset is a relatively low-risk option for investors due to the high-exposure location, diversity of corporate and regional tenants, and a strong traffic-driving anchor like Walmart," said Fryman. "Additionally, investors can typically spread out their risk over multiple tenants versus single-tenant assets."
"Arvada West Town Center presented an ideal opportunity for us to acquire a quality shadow-anchored multi-tenant retail center with below-market ground leases and upside potential through leasing up the vacancy," said William Winn, partner and chief executive officer, Starboard Realty Advisors, LLC.
"With the recent closing of the nearby Safeway store, we expect Walmart to directly benefit from increased customer traffic, which will drive leasing activity," said Stephen Carlton, partner, chief operating officer and vice president asset management, Starboard Realty Advisors, LLC.
Hanley Investment Group has been very active company-wide in the sale of retail properties in Colorado. Hanley recently represented the seller in the sale of Standley Shores, the shop buildings shadow-anchored by King Soopers in nearby Westminster, Colo.
About Hanley Investment Group
Hanley Investment Group Real Estate Advisors is a retail investment advisory firm with a $5 billion transaction track record nationwide, who works closely with individual investors, lending institutions, developers, and institutional property owners in every facet of the transaction to ensure that the highest value is achieved. For more information, visit www.hanleyinvestment.com